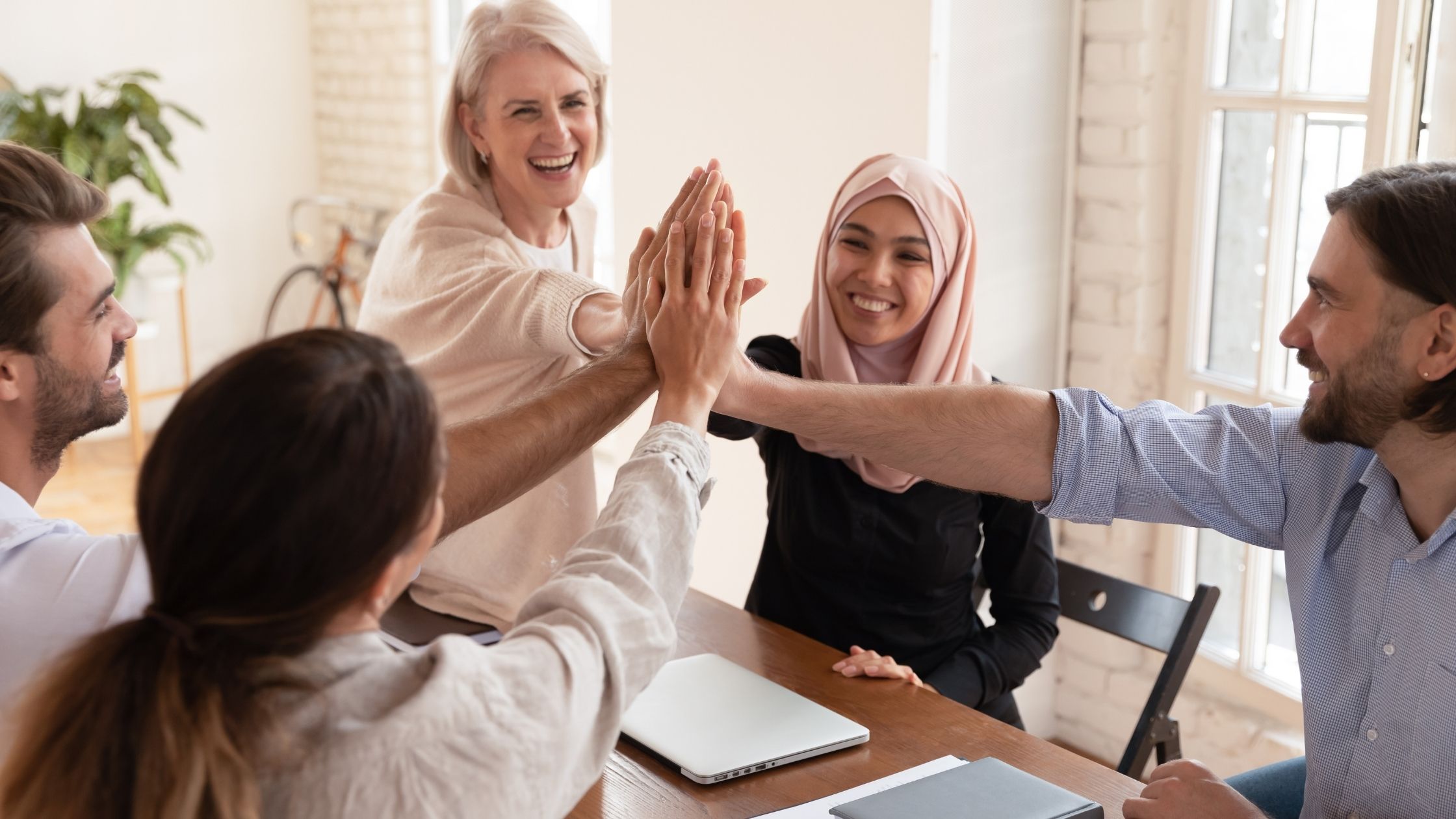 Looking for cohesive, Corporate Team Building Activities in Dubai that will get your team motivated but just can't find the one that fits the bill? Corporate Team Building Activities have come a long way from the chalk-and-board, classroom-type presentations, and the exercises that help cement the theories that are presented. So instead, why not take up Explorer Tours' fun-filled physical activities that are largely recreational and combine elements of awareness and development in nature. These activities involve you coming up with a strategy while overcoming your team's strengths and weaknesses, all to help turn the outcome in your favor.
The Amazing Race Team Building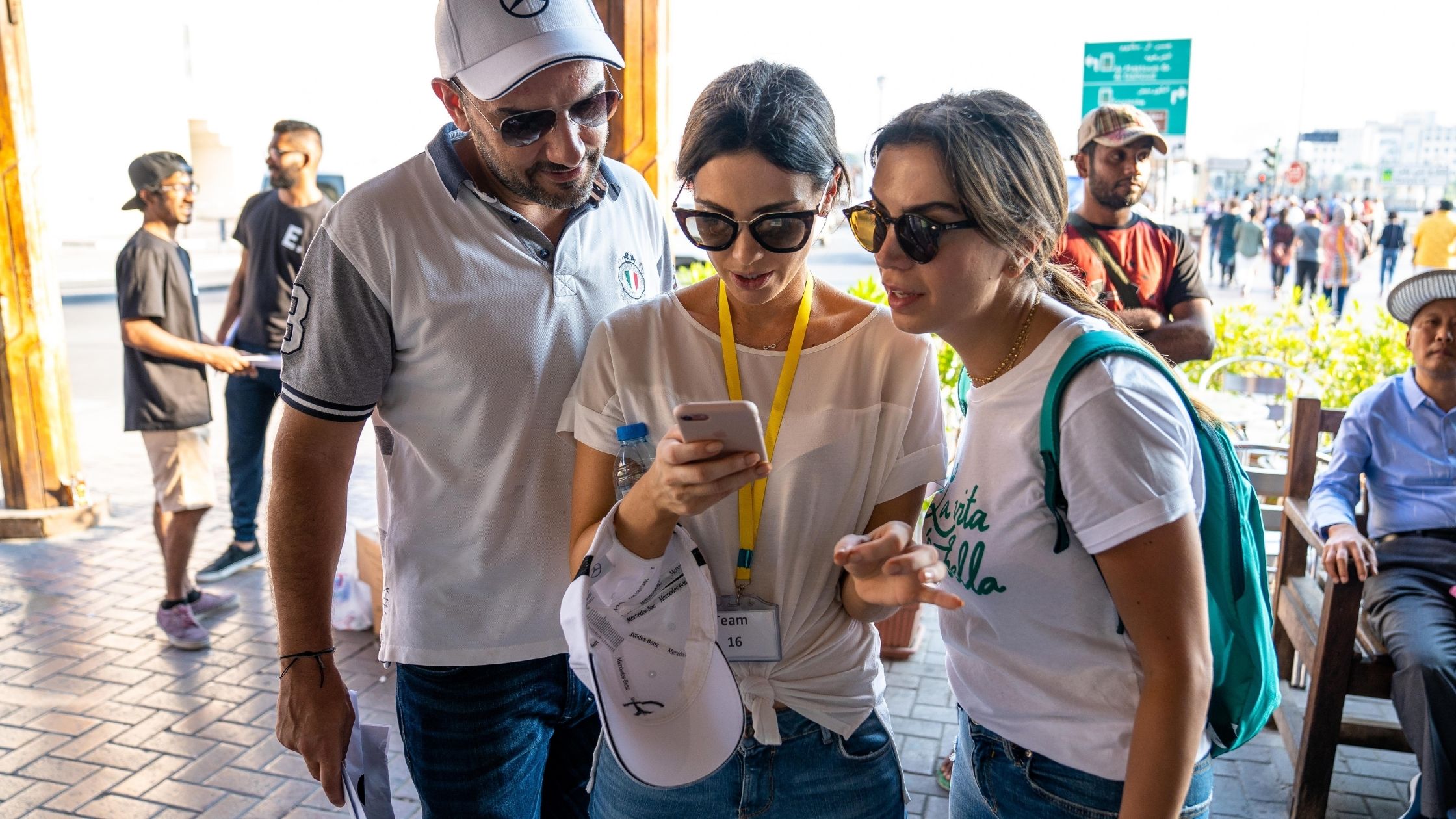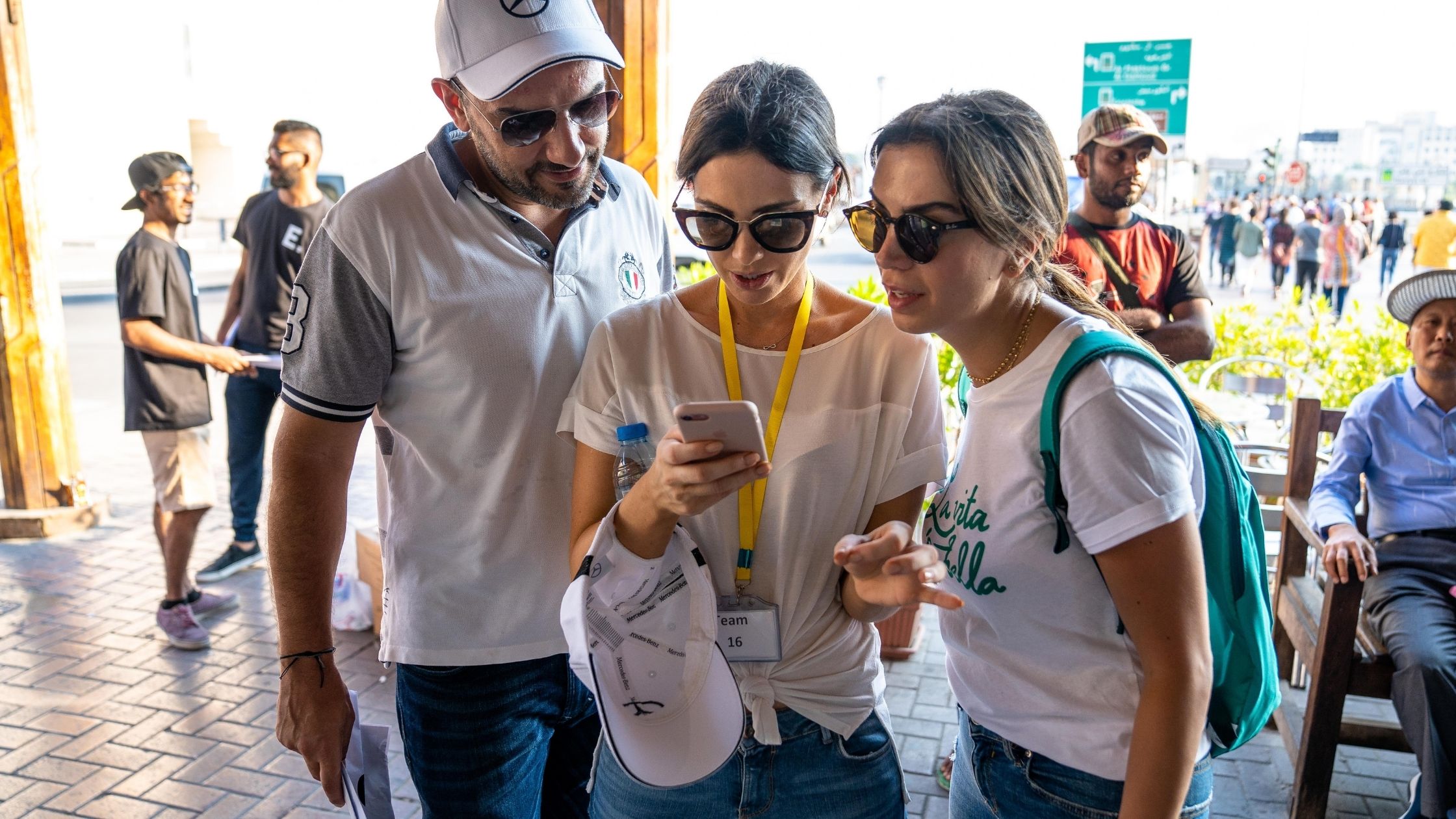 The ever-popular team-based race made popular on TV is now available at Explorer Tours! Split up into teams of four or five (or three if you're a small company) and head out into the city. Navigate using local transportation – Dubai Metro, water taxi, bus, taxi, or on foot – and decipher instructions and overcome challenges and tasks to acquire artifacts. Make your way through these tasks and race to the checkpoint with all the tasks completed to claim the coveted spot of Team Number One! The race is available in half-day and full-day packages. You will also be provided with a luxury 4×4 vehicle and driver for the duration of the race.
Dune Buggy Challenge Team Building
Sometimes the monotony of professional life can bog you down to the point where you don't feel like coming in to work the next morning. Why not treat your employees to a fun day in the sand racing our fully-customized dune buggies known in these parts as Desert Foxes. Our sand rails come fully equipped with roll cages, bucket seats, safety harnesses, and state-of-the-art shock absorbers. We also provide a pair of goggles and helmets for added safety. We've set up a 10km track full of obstacles and hazards for you to overcome. Can't drive or don't own a driver's license? Don't worry! Our Desert Foxes are fully automatic. What's more, we have a briefing session conducted by a veteran Explorer dune buggy who will guide you on how to operate these beasts. In case of any technical difficulties, we've got a technical team on standby who will shadow you throughout the race.
The Bedouin Treasure Hunt Team Building
Use your team's collective strategic institution to find the coveted treasure of the Bedouin. This treasure was said to have been the lost property of a Bedouin merchant, who was making an expedition from Liwa to Fujairah back in the 1930s. As the story goes, he fell ill on his journey and had to make an unscheduled stop somewhere in Margham. It is said that he left three treasure boxes hidden in the desert. Ultimately though, the merchant would succumb to his illness, taking the location of the treasures with him to his grave. After news of their father's demise, his three children sought out the treasure, wasting years with no reward. Their loss, however, may just be your gain, because you now have the chance to claim the Bedouin's lost treasure as your own! Once you have found the location of Bedouin's treasure, you will be able to choose which of the three treasure boxes you wish to keep. The first three teams to find the treasure get the treasure boxes. But don't worry, no one goes home empty-handed! The remaining teams will be compensated with a souvenir they can take home in memory of the event! So put on your treasure hunting gear and get set to have some fun!
The Desert Explorer Corporate Team Building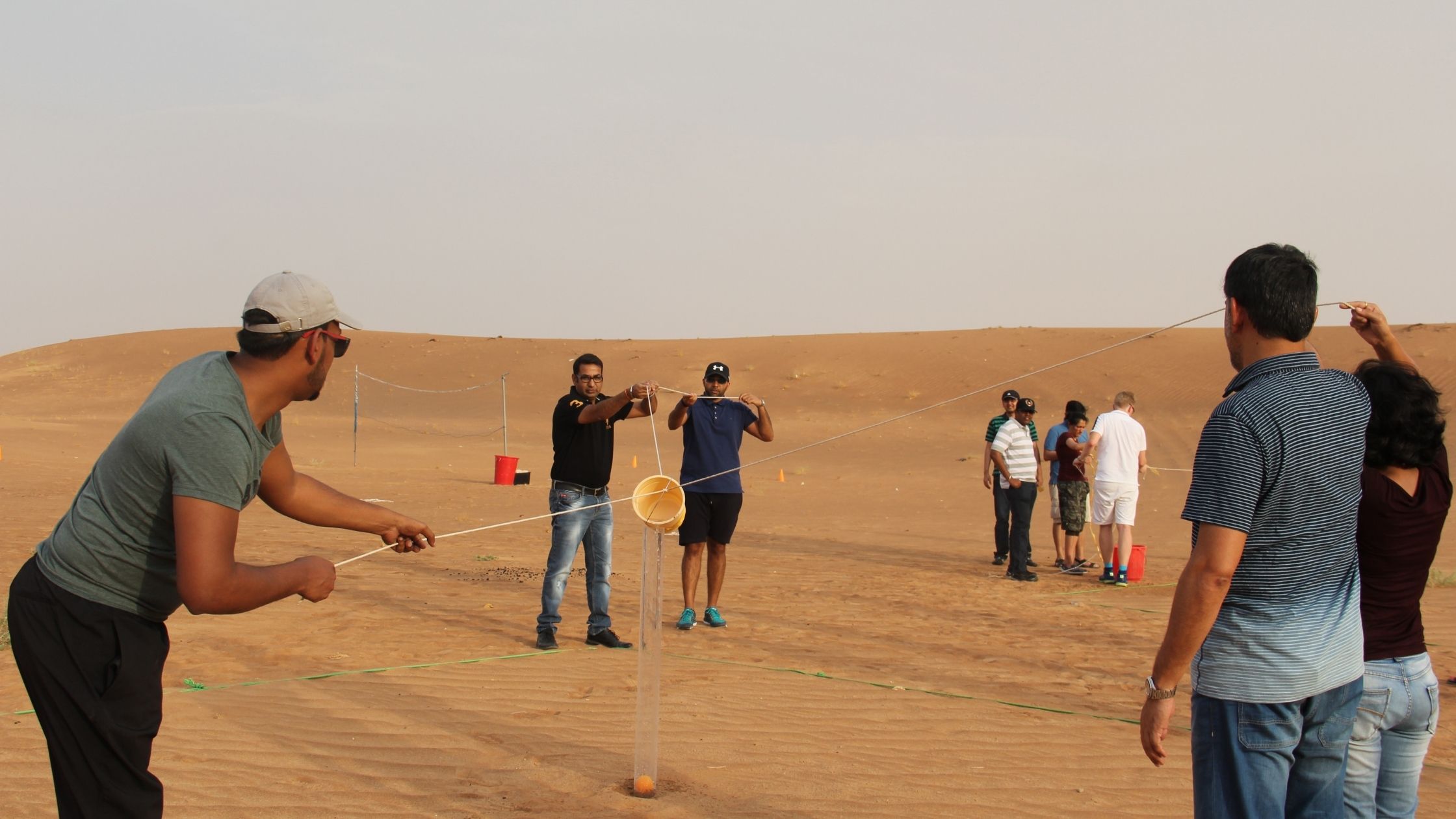 Experience exhilarating challenges while building on the cohesiveness and effectiveness of your team with our Desert Explorer experience. Your day starts with a short safety briefing conducted by trained instructors who will then accompany you on an hour-long exploratory drive to the desert where you will begin your trials. Prepare to get tangled while trying to solve the rope maze, utilize your white matter to navigate our scavenger hunt, sweat and shimmy through our minefield, and get a little wet in the water balloon volley challenge, all while having some good, old-fashioned competition thrown into the mix with our ball and kart race. Once these activities are completed, retire to our Bedouin-themed camp for a little Arabian hospitality. Cool off for the day with a cocktail, enjoy a stroll on camelback, learn the beautiful and intricate art of henna painting, or stoke the shisha, while our team prepares a scrumptious three-course BBQ dinner for you. Once dinner is done, enjoy the sights and sounds of entertaining belly dance, following which you will be taken back to Dubai.
The Beach Olympics Corporate Team Building
Explorer Events' Beach Olympics event gives participants the chance to compete for Olympic glory. The games are staged in a beautiful and safe coastal location. Groups are divided into smaller teams, which will remain so until the end of the events. The games will push the competitors to think, communicate and work together. Following each activity, the teams are allowed to discuss them and the experience they carry from each one. All activities and events are supervised by experienced and qualified staff. At the end of the day, following the awards ceremony, participants can relax and enjoy the sights and sounds of the ocean. The activities focus on energizing the body and motivating individual capability while aligning every individual involved towards achieving a common goal. Group dynamics and bonding are promoted and inculcated, while skills such as communication, cooperation, and leadership are key areas that can be improved upon. Activities include Water Volleyball, the Rope Maze, Beach Skiing, the traditional Tug-of-War, Inflatable Whale Relay, and a Sand Castle building competition!. So there you have it! What's that? Do you want to sign up for our Corporate Team Building in Dubai right away? Well, head on over to and hit us up. Drop us a message and we'll get back to you. Not seeing anything that piques your interest? Get in touch with us anyway, and let us know what you'd like to see incorporated so that we can better serve you! Ready? Get, set, Go!
Tags: explorer events, explorer events team building, team building, team building activities, team building dubai