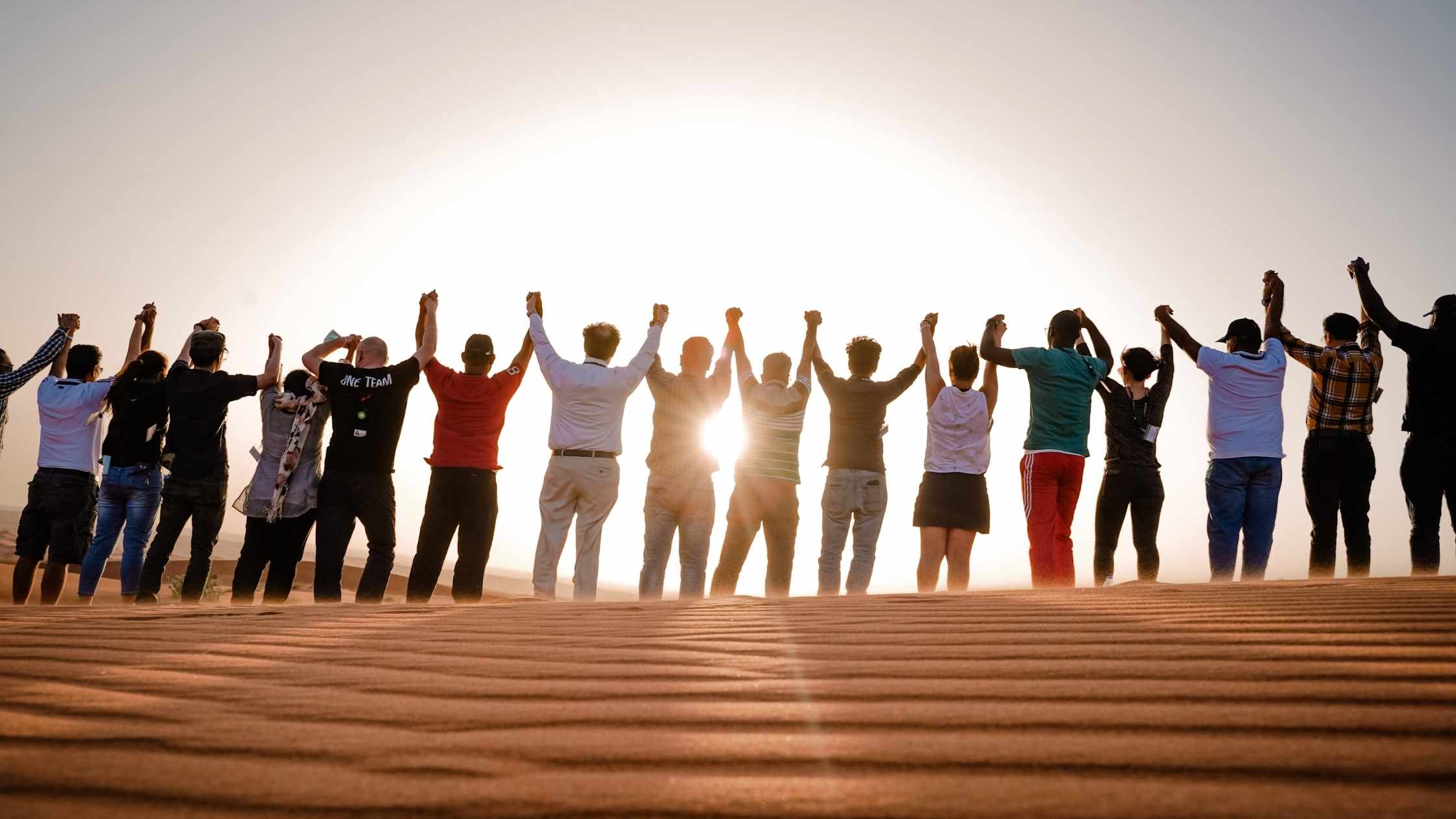 Group building exercises make the workers develop qualities like legitimate correspondence with partners, support cooperative soul, obligation and reliability, positive disposition, critical thinking, using time effectively, tuning in, and being in a group.
The Bedouin Treasure Hunt
Beach Olympics
The astonishing race
Paddleboard
Dragon Boat Racing
Trekking
Dune Buggy Challenge
Camel Polo
Luxury Desert Adventure
Desert Explorer
1. The Bedouin Treasure Hunt
 The story behind this action is a long way back in the 1930s, this fortune was said to have been a lost property of a dealer who was venturing out from Liwa to Fujairah. Sadly he fell and make a stop in Margham. It is said that the buried fortune confines were secret in the desert. After the vendor's downfall, his 3 kids searched out for this treasure yet were disheartened and squandered a very long time in looking. Presently you get an opportunity to guarantee the Bedouin Treasure as your own.
 The origin story of this movement is very interesting, exciting, and gutsy as well. The members work in little gatherings and are given signs like riddles. You need to unravel the sign and draw nearer to the fortune. The movement incorporates a course of events, every one of the properties required for this exercise will be given. This action further develops a few characteristics like critical thinking, independent direction, and communication which is the underpinning of powerful cooperation.
2. Beach Olympics
Oceanside Olympics comprise numerous little exercises. Every one of the members is isolated into more modest teams. We give back-and-forth, ocean-side skiing, water swell volleyball, whale transfers, and sandcastle-building contests.
 Water expands volleyball:
The Judge will put water expand into the towel of the serving group. The servers will pull back on the towel and toss the water expand over the net to the rival group. The other group will attempt to catch and afterward toss the inflatable over the net to the opposite side. This is the way this movement is finished.
Back-and-forth:
The back-and-forth is a most loved group-building action. Here, an incredible group will be made in spite of whether it's young or old, huge or tiny, everybody cooperates and shows the group strength.
Oceanside skiing:
Oceanside skiing is a difficult and courageous movement and will permit the members to sparkle outside their ordinary workplace. The gathering will be partitioned racket more modest groups, prepared to confront the round of capacity and ability. This movement will make the colleagues communicate and cooperate
Sandcastle building:
Through this action, the members can team up their thoughts and utilize their creative minds to make and shape together their vision. That will be a cordial competition. These group actions assist with making more grounded ties inside the group.
3. The astonishing race
This movement is a sort of race where the members are given an encompass of guidance and city guide and data from the neighborhood populace available to you. This movement will assist you with realizing how might the members face difficulties and can examine the group's capacity to convey to each other successfully and lastly to arrive at the end goal. These activities help the colleagues to improve and force specific characteristics as they discuss well with one another, They center around objectives and results, everybody will contribute their part, they offer each other help, great authority, and they will be efficient.
4. Paddleboard
Paddle boarding is an extraordinary and courageous experience. You will be isolated into groups. Paddle boarding is tied in with adjusting, coordination, and correspondence. Collaboration is a fundamental key to making progress. The reason why it's chosen for group building is that;
For its capacity to improve collaboration

It's good times

For its numerous medical advantages
This can ensure further developed commitment of representatives and group joint efforts which will bring about a more useful workspace. We accept that every one of the characteristics you procured through these exercises can be utilized for the development and improvement of your organization.
5. Dragon Boat Racing
This action requires a boat, a ton of rowing an enormous collaboration. It's one of the most energizing, serious group activities. The group will actually want to foster their collaboration expertise in an effective manner.
This game will help you in your work as
You can remain synchronized with the group

Give a transparent input

Trust one another

Generally, it assists you with building great correspondence and cooperation.
6. Trekking:
To get more connected with your team trekking is the best option. Even if you are taking newbies for trekking don't worry we have the complete guide to help you. Now you have your team but where to hike, There are plenty of options.
If your team has more energy and loves physical challenges go for, Jebel Qihwi the amazing mountain stands majestically at 1792m. Or just a simple hike and nature admirers, Wadi Tayyibah lies 20kn north of Masafi which can be accessed by the old East Coast road.
If your team is into trekking you get a lot of places to pick from easy hikes to challenging trails. All you need is an enthusiastic team with you, trekking will give you adventurous and memorable moments.  
7. Dune Buggy Challenge
Dune Buggy best way to explore the stunning Arabian Desert. It's the best adventure activity for adventure seekers. As you head through the sand dunes it gives you a breathtaking experience.  We understand it's fun experiencing Dune Buggy it might be risky, And yes it is that's why we have experienced people to guide you and provide you with helmets & goggles and also a backup team to support you. So all you need to to worry less and enjoy your time with your team. 
8. Camel Polo 
Camel Polo also called the sports of kings, is luxury as it sounds. Your team gets to experience the royal sport. Even if you lose the game your social post will get hundreds of likes, because the costume and your whole team will look fantastic. 
You don't know riding a camel that's okay. There will be a trainer for each camel they ensure your and the camel's safety. It is also the best way to put up teamwork which needs planning and strike at the right time.   
9. Luxury Desert Adventure
There is nothing more special than spending your holiday in a relaxed and luxurious way. With your colleagues and friends, it's much more fun. Get ready to experience the desert with comfort and style. There are lots of activities included, you get to enjoy the night stargazing the majestic Arabian sky. There are also yoga sessions and massages to relieve your stress. End your day with exclusive dining.
10. Desert Explorer
This is a package of activities that includes almost everything you can do in the desert. From fun to brainstorming events, the perfect time to get more bound with your team. You get to choose the type of activity you like. We will brief the activity and also provide you with the materials required. What next enjoy your day with Sheesha & Arabic coffee and also our BBQ dinner.  You also get to experience the traditional Bedouin-style camp. 
Team Building  Activities  in UAE  Contact Us Today